Wooden floor materials:
Mainly there are two types of wood flooring materials are available, hardwood material and engineered wood material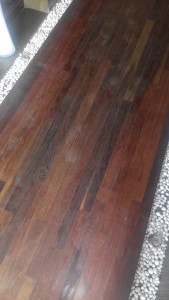 Hardwood material:
Hardwood is natural solid wood which is seasoned. Even though it is seasoned, based on the climatic variations it will expand and contrast slightly more when compared to engineered wood
 Engineered wood material:
Engineering Wood material is made up of several layers. Top most layer will be HDF (high-density fiberboard) material. Solid wood will not be used in this type of material.
Wood floor advantages:
Wood flooring is the environment friendly and beautiful. Since Wood grains are natural, they will give an aesthetic look to the room. Since the wood is insulator heat and cold will not transmit from wooden flooring.  In summer, flooring will not be heated much and in winter you feel the warm.
If you want to protect yourself from climatic conditions, then you can go with wooden flooring.
Wood floor disadvantages:
You need to protect the wooden floor from dust, small particles of sand, and water.
Water should not be used for cleaning the wooden floor. Moisture should be avoided.
Direct sunlight should be avoided on the flooring because that will fade the color
Even though, wooden flooring is treated for scratches, it is recommended not to drag heavy items or rough usage.
Conclusion:
If climatic conditions are a major point of consideration then wooden flooring is the best option for you.
If you can avoid moisture you can definitely go with this flooring.