Tips for buying  Granite:
Granite Names: 
There are a lot of granite names. Sometimes you will get confused with these names. So initially you note down the names on the back side of the visiting card which you collect from each shop. preferably you can take a photograph of that so that you can identify the color easily. You will hear some of the names like  Indian Jubran, Raw silk, Tomato Red, Cat eye, Black Galaxy, Hassan gray, Velvet pink, Amba white etc.
Even though, granite name is same you will see a lot of variation in grains, patterns.
Colored epoxy for granite:
Now a days sellers/manufacturers are applying various colors while applying epoxy. These colors will hide the natural color of the stone. Generally this kind of colors will be applied to the low-quality material, or to increase the price.  These colors will fade out after few years and you will see the original color of the stone after few years. In recent days, I do observe this kind of color variations in Jigini, Bangalore. It is advisable to take a transparent epoxy coating rather than more dark colored epoxy coating
it is difficult to make  out whether it is a transparent color epoxy or not. You can solve this by following two ways
Easiest thing is to pour water on the back side of the slab.  So that you will see the original color. Slab back side you can always see the natural color of the stone.
Another method is,  observe the color on 20 mm thickness side, you will see the epoxy colors. You can identify whether it is a transparent color or not. Based on this you can guess whether it is thick color or not.
How you need to conclude granite selection:
Roam all the shops in the specific area
collect all the visiting cards from each vendor/shop
Identify the suitable granite for you in that shop– make a note of the price
check for sufficient quantity  — if the quantity is not there then you can eliminate the selection
Final cost of Granite — Granite price +Transportation + labor charges for loading and unloading
Once you collect all the shops data, finally match your requirement with available options in shops
Buy granite for the entire house at once if you are going for pattern type of granite. You will not get the same color or variety once again. But if needed, you can match the similar patterns but this is very subjective to the color you have chosen
If you are laying the granite in multiple houses then you can accommodate/face this situation but transportation will be an additional cost for you.
This photo shows a pattern of a granite slab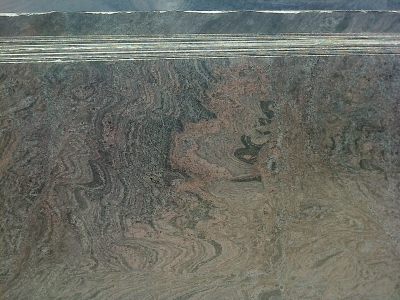 This granite slab does not have any pattern/wave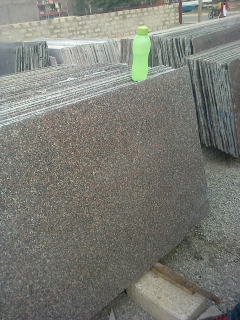 Once you like the granite, and if it is meeting your requirement then give advance and book the material otherwise there is no guarantee that you will get the same pattern again because it is natural resource
In gangsow or granite tiles, you will not get any wastage.
Even patterns in the same granite slab will cost much then the uneven pattern.
Kerosene cutting:
kerosene cutting slabs will not be good. kerosene cutting slabs will loose it's shining fast. You can identify the kerosene cut slabs by smell. Once you open the slabs in the lot, Then you can feel the smell if slabs were cut by the kerosene. All gangsow slabs will not come with kerosine cutting.
Water cutting:
Water cutting slabs are preferred one than kerosene cut slabs
Granite Cracks:
If you find any cracks in the material then Seller will exclude the granite slab until the cracks portion. After excluding the defective portion of the slab, measurement will be taken. Granite layer will reuse this additional granite. So that you can save some amount
Iron content in stone:
In light colors granite varieties, in some places you will see dark iron color spots. For example, you can see this iron spots in Amba white granite variety. After few years, iron content will spread over the iron spot and slightly change the color around that spot
Buying it from granite factories:
Various factories are available in Jigini surrounding area. Usually, factories will deal with few varieties of the granite Go and roam to identify the granites. enquire you will get the better price and good material
Buying from factory directly will save you some money because loading and unloading charges are not there from seller
Which color granite to choose:
Based on your own preference. This will take the precedence over all the factors
Based the ventilation you can choose the color. On low light conditions in the house, you can preferably go with light colors and vice versa
Black colors granite will be harder when compared with light color granite and light color will be soft when compared to black color ones.
 Similar posts about Granite: