People follow below two methods to put molding.
Sheet Centring
Soil Centring
here i have listed Pros and cons for both molding methods
Sheet Centring:
    Pros:
You can finish molding fast. Once sheet centring over, you can start working on steel work then building will be ready for molding
You can setup trolley and track to bring concrete mixture at the time of molding. This will be more useful if your molding area is more. You can finish your work fast.
    Cons:
 You can't make any designs in roof. If you are planning to put good designs in ceiling, this method will not be a better option
 costlier than soil centering. At present (Oct 2012) it was costing around 20-25 rupees per SFT )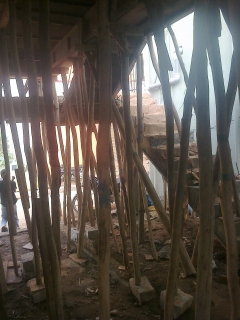 Soil Centring
    Pros:
 You can make beautiful designs for roof.
 Less costly because no need to bring Iron sheets. Only thing which you need to use is sticks and soil
    Cons:
 This process will take 3 or 4 days of extra effort than sheet centring
 Because once molding base is ready you need to put soil. Once soil is filled you need to prepare surface with cement. Once surface is done it has to be dried out for one/two days.
 You can't setup track to bring concrete mixture. Since track legs will go inside soil and roof base will get spoiled. So until roof, you can use lift to bring concrete mixture from down then you need to use manual labor.
Molding Photos: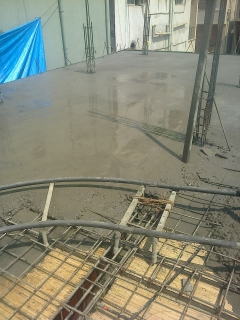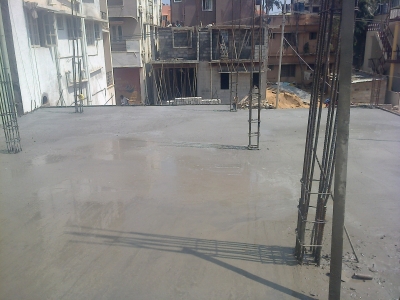 Manual labor disadvantages while molding:  earlier people were using manual labor to put molding. Concrete has to me mixed with appropriate water. Once water is mixed, labors carry cement mixture and put in roof.During this process concrete mixture will get spilled on them. So to avoid that labours will not mix more water to avoid spilling which will damage quality of the molding  So I suggest you to use lift/machinery  to bring concrete mixture to the roof and from there use trolley to pour mixed concrete o slab.  Where ever is possible use machines instead of manual labour.
Get feedback from others before giving work to molding mason.
Concrete mixture from branded companies: Before ordering concrete mixture, from branded company visit company mixing plant to check whether they are using good sand or not. If they are using filter sand then it won't be worth to take from mixing companies.
Refer Tools Used during molding page to see more pictures